So first things first, I'm thinking about making my YouTube channel into a make-up channel. Tutorials mostly. I might do some reviews. I'm not sure yet though. I think I wanna gear the tutorials towards people who use drug store make up. I only own ONE MAC product and its one of the Heatherette trios. Everything else came in a couple big kits from Wal*Mart. Well, except one eyeshadow. That eyeshadow came from Forever Glamous cosmetics...I think. But anyways! Am I even good enough?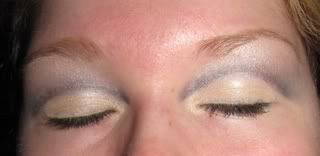 I think I found the man of my dreams. His name is Dave Mason...he is the most perfect guy I have EVER met. He treats me like I actually matter. I love him with all of my heart. I'm GLAD me and Shawn are done. If it wasnt for Shaw dumping me I would have never found the man of my dreams. Dave, I love you so fucking much. I want to spend the rest of my days with you baby love.
I FINALLY GRADUATED!!! I'll post pictures...maybe. I dont know yet. I didnt like the way I looked at graduation. Our gowns were...WHITE. Yeah, hideous, I know. It feels so good to finally be out of High School. Finding a job is so fucking hard though. :[ I'll write more later. No quote today. Sorry.